Davide Rigon greets the Autodromo Nazionale di Monza with an 11th place in the Pro class, achieved in the first round of the GT World Challenge Europe at the wheel of the Ferrari 296 GT3 of AF Corse – Francorchamps.
Despite the best team time (1:46.683) marked in its qualifying round, the crew of the number 71 started from the sixth row with a combined time of 1'46"941 (the average of the times marked by each driver) in a grid composed of the beauty of 55 crews. The session was interrupted prematurely, before the third driver of each crew could get on the track, due to electrical problems at the Lombard plant. The starting grid therefore was determined based on the combined time of two drivers.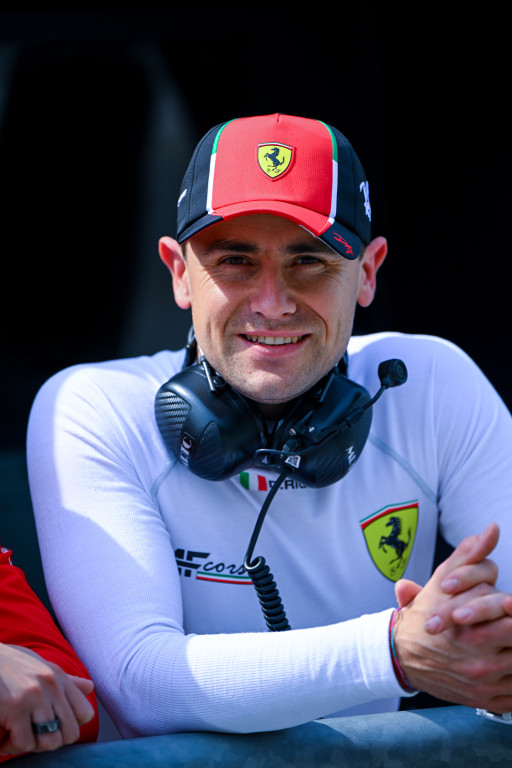 The 3 Hours of Monza got underway at 3:15 p.m. and saw Davide cross the finish line in eleventh position, after a race run on the attack strongly conditioned by a less than perfect pit stop, as the driver recounts,
"It was a good race as difficult as it was. We started in traffic and in this championship it is difficult to get back up if you are in these conditions. Unfortunately, our final position was affected by a problematic pit stop because there were too many cars and we were forced to reposition ourselves using the bogies, losing over twenty seconds. My stint therefore started with our 296 GT3 in traffic and, with no real chance to attack the others except by taking unnecessary risks. I still managed to gain a few positions but we could have scored more points. The car is responding well and we didn't have any major problems except for the lack of power because of the Balance of Performance. We as Ferrari also need to improve and we will work together to progress. From this point of view we have collected important data to make us more competitive as early as the next race."
The GT World Challenge Europe will return to the spotlight with the 1000 Kilometers of Paul Ricard on the first weekend in June, which will be followed by the 24 Hours of Spa-Francorchamps (July 1-2) and the 3 Hours at the Nürburgring on July 30 and in Barcelona on Oct. 1.
There is no time to rest because Davide is already on his way to Belgium, which next weekend will be the scene of the Spa-Francorchamps 6 Hours, the third round of the FIA World Championship. Davide will be at the wheel of the Ferrari 488 GTE in the LMGTE Am class on the track in the Andennes Forest, characterized by a development of 7.004 kilometers and 20 curves. Green flag on Saturday, April 29 at 12:45 p.m. (local time).